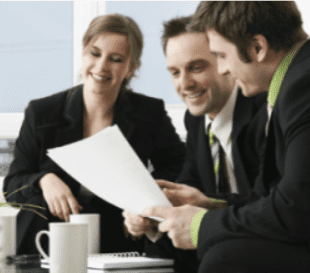 Sales hiring managers are often too busy to headhunt their own talent, though they may be best equipped experientially and intuitively to recognize top performers, and many have deep networks of reliable connections that they can leverage.
What's more, sales hiring managers often have their own quotas to reach in addition to managing their sales teams.
Relying on internal recruiters often proves to be less-than-optimal, because internal recruiters themselves don't have time to "dig in" past the initial years of experience and sales numbers provided on a resume. Internal recruiters essentially rely on the information a candidate provides on a Resume, CV or LinkedIn profile, and perform a basic 15-30 minute phone screen to confirm that the candidate is correctly representing herself or himself, and is still actively seeking the opportunity.
Large external recruiting firms that claim to have a sales hiring focus often source and recruit salespeople across the entire experiential spectrum, from entry-level BDRs to seasoned account executives. Recruiters at these firms are given req quotas of their own to fill–and so it becomes a matter of quantity over quality that drives how they will recruit for you.
It is commonly understood that 20% of the sales team drives 80% of the revenue. With the above hiring methods, you are essentially playing a numbers game—you continually recruit and churn sales reps until you are fortunate enough to land a top performer (who stays with your organization long enough to help you realize real revenue gains).
A better and more cost effective approach would be to leverage a sales recruiting firm that has a singular focus and methodology in place for getting the right top-performing rep for your team the first time. Here's how Revenue Hire can make this happen…
In a preliminary meeting, Revenue Hire will have a conversation with the hiring manager to ensure they have the right information to develop the right profile. The profile will be based on the hiring manager's revenue goals, primary roles and responsibilities of the sales person, the selling environment, sales cycle and deal size. At this time, Revenue Hire will also discuss the compensation component as well and help the hiring manager develop it if they are still working to finalize it.
Revenue Hire then employs a 7-Step Method to help you hire new revenue generators with over 90% accuracy in candidate placement.
First, Revenue Hire creates highly customized, role-specific employment ads for your open sales position. Next, Revenue hire leverages industry-leading technology to source, screen, and assesses each candidate, creating a detailed picture of sales aptitude and company fit.
The next two steps are key differentiators in how Revenue Hire delivers sales hiring managers top performing talent. Revenue Hire doesn't depend on the sales hiring manager and her team to evaluate candidates in-person, which inevitably means that the sales team is pulled away from valuable time that could be spent setting appointments and closing deals. Revenue Hire conducts rigorous personal interviews with each candidate, analyzing professionalism, honesty, people skills, and a range of considerations unique to each role.
The Sales-Simulation Evaluation is a real game-changer in terms of ensuring that a candidate is qualified to sell to your vertical market, and capable of handling himself or herself in real-world selling situations. Every salesperson has participated in sales role-playing exercises, and most sales managers will admit that they would like to spend more time sharpening their sales team members' skills and honing their messaging by conducting role-playing exercises. However, how many salespeople are required to participate in role-playing exercises, PRIOR to joining the team? Most professionals have participated in informal "lunch interviews" that are designed for the hiring manager to see how their candidate behaves when her or his guard is down, but this kind of interviewing technique doesn't deliver the same type of confidence in the candidate's ability to perform as a hunter, relationship-builder, negotiator and closer. Industry-specific, improvisational role-playing exercises give the hiring manager complete confidence that the candidate will be a top performer when selling to the required vertical market.
After this step, hiring managers are presented with 2-3 well-qualified candidates who are best suited to the role, with detailed assessment information about these candidates. Then, cultural interviews are conducted to determine which of the qualifying candidates has the best personality fit for your unique corporate environment.
While cultural fit has fallen out of favor to some degree in recent years, Revenue Hire, like most recruitment professionals and hiring managers, know that when cultural fit interviewing is done well, it makes all the difference in ensuring that a candidate will fit in well with a particular organization's culture.
When cultural fit recruitment is done poorly, it can often eliminate outstanding candidates who are capable of acting as challengers who can help reshape the status quo when the status quo is preventing teams from realizing their potential. More negatively, bad cultural fit interviewing and recruitment can begin to look like discrimination.
Revenue Hire recognizes these pitfalls and works closely with hiring managers to make sure that cultural fit means the final candidate will be motivated to sell as a top performer at the hiring manager's organization for some time to come. This guarantees stable revenue forecasting and eliminates high employee churn rates.
The final step in the process consists of a detailed presentation by Revenue Hire to management on details of new hire's strengths, experiences, and areas of potential struggle, supporting a seamless transition into training and sales success.
To sum it up, Revenue Hire has systematized the best practices of sales recruitment, while including in each step of the process recruitment and assessment techniques that are role-specific, culture-specific and industry-specific to the hiring manager's open requirements.
Ultimately, this speeds up time-to-hire, because the hiring manager is spending less time on re-hiring salespeople who prove to be either underperformers or poor fits and high churn rates are eliminated.
As a sales manager, you get your time back–you are not spending all of your time assessing new candidates to replace churned employees, and onboarding ones who were ill-equipped for the role.
If you are a sales hiring manager who is ready to build a team of top performers who will meet and exceed your revenue expectations, click here to contact Revenue Hire now, or give us a call today at: (512) 348-5939!